Specials
---
XL Works  $30.00  
XL Combo  $27.50
2 Lg Combos  $42.00
Tax Free Tuesdays!
Gluten-Free Pizza now available! Click for details. 
We are proud to serve our delicious Pictou County style pizzas made from only the freshest, high quality ingredients.
We buy our ingredients from local suppliers. We are committed to quality, consistency and fast, friendly service. Our Authentic Pictou County Pizza recipe has been handed down from our parents who were the first to produce the Famous "Pictou County Brown Sauce Style of Pizza" in the area in the 1960's. Many attempt to reproduce our family's recipe, with little success.
In the photo is Pota Kouyas (the owners mother) preparing our Authentic Pictou County Pizza Recipe in the 1960's at the family's iconic Foord St., Stellarton location. We Still Prepare our recipe the same way!
Doug and Angela (Kouyas) Bonvie are the owners of Pictou County Pizza Inc. in New Glasgow, NS, were born and raised in Pictou County and both have 25 + years' experience in the pizza industry.
After immigrating to Canada and marrying in Montreal, Demetre and Pota sponsored Demetre's little brother George's immigration to Canada. In the early 1960's Demetre (Jim) & George Kouyas were both working in Montreal at different Restaurants and one of their bosses, Nikos Geroulakos, had a sister and brother-in-law in New Glasgow, NS named Katina and Nick Manos (who later became Angela "Kouyas" Bonvie's God-parents). This connection with Nick Manos is what brought the brothers to Pictou County. Their sister Alice helped finance the purchase of the Washington St. grocery store that would one day become Alice's Pizza.
The family lived and worked at that location, operating as a neighborhood Grocery store for five years. The two brothers eventually bought the Foord St. location. Demetre (Jim) and George worked together on a basic tomato sauce for their pizza but soon their friend Nikos Geroulakos came to visit the brothers. During his visit Nikos showed Demetre (Jim) and George how to add certain spices (the secrets) and "TIE" the sauce which gave the sauce it's famous brown (it's actually a reddish brown) color. Soon after the success of Sam's restaurant their sister Alice converted the grocery store to  Alices Pizza with her husband Bob.
Over the years the business and family continued to grow. Another brother, Stavros (Stevie) and his son Andre, joined the team and later went on to open their own location in Westville which is now known as Acropole Pizza. Although Stavros has passed his son Andre and family continues to operate the Acropole Pizza.
Franchise Opportunity
Get Your Own Slice of Success with Pictou County Pizza!
Pictou County Pizza Sauce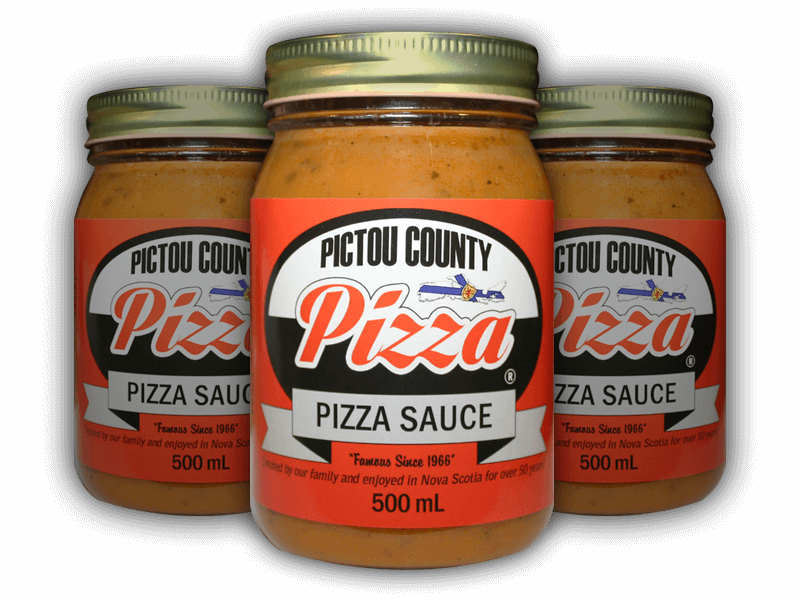 Pictou County Pizza Sauce is now available at Sobeys and online!
Now you can enjoy the delicious taste of our family's authentic "brown sauce" recipe on your own homemade pizza! We're proud to offer our customers the sauce they love at Sobey's locations throughout Atlantic Canada. Look for our in-store display or ask a staff member to help you find "Pictou County Pizza Sauce".
Our sauce can be ordered by any Sobey's store location using Article # 629894.
For our customers further away, we are pleased to offer our Famous Family Pizza Sauce for purchase online. shipping is determined based on your location. Please fill out the form below and someone from our team will respond ASAP!
500ml Jars: 

$5.95
Thank you for visiting our website. Please feel free to use the contact form to message us with any questions you may have. We're looking forward to hearing from you!